Aotearoa's TTRPG shows do like getting onto a real stage
–
and a few started there. #kiwiRPG Week 2022 has two of them, and they're also streaming live.
It has been said that every TTRPG session is a show where the players are performing for each other. But being in the room with a bunch of people who are just there to watch changes things up. Feeling an audience laugh, hold their breath, and applaud can help players recognise and heighten both the clownishness and the drama in their stories – and reminds them to keep up the pace and energy of their play. It's an experience that might sometimes be available at conventions, but many of Aoteroa's TTRPG performers, even beyond the roleplaying practice, have backgrounds as comedians, actors, or improvisers, so the stage calls.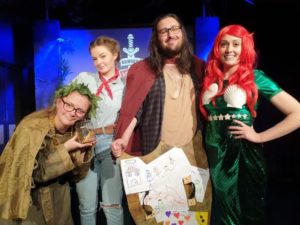 And people do come out to see. As Dungeons and Comedians DM Brendon Bennetts told The Spinoff, their first show sold out within hours of him posting a Facebook event. That first episode wasn't recorded – Bennetts didn't expect to be making a podcast – but the show (performed in Ōtautahi Christchurch) has expanded to audio and occasional live streams, their anarchic and sustained character choices and commitment to not reading character sheets now enhanced by live illustration. By the end of 2019 they wrapped up their first grand campaign (with each episode a self-contained adventure) in a "masterful, hilarious, and genuinely moving piece of collaborative storytelling and world-building". When New Zealand's 2021 lockdown interrupted season 2, they made an online special including two comedians from Taskmaster NZ who had also won Billy-T awards (a big deal), one who won New Zealand Celebrity Treasure Island, and a Billy T nominee (also a big deal).
In 2021 media took notice when The NZ Fringe Festival in Te Whanganui-a-Tara Wellington included four different live shows inspired by Dungeons & Dragons. Two of those were actual-plays, recorded for podcast release: The Fate of Isen and Diceratops Presents. It was neither's first time on stage – Isen have been Fringe regulars (with the presence of an audience apparently encouraging the comedian performers to choose chaos) while recorded live shows have were a staple of Diceratops' content from the start.
Also cutting its teeth on the Wellington stage was the crew behind streaming show The Road Unknown, with 2020's Dungeoning and Dragoning building a full theatrical experience around a D&D game.
Later that year, and a little to the North, Saturday Knights started bringing their adorably characterised and character-driven adventures to Te Papaioea Palmerston North.
Tāmaki Makaurau Auckland has also had its share of the recent action, too. Along with recurring seasons of D&D-inspired improv show Can I Get an Underground Location and a Mythical Creature?, there were actual play shows by True Neutral (2020, not a podcast), Guardians of the Gygaxy (2019, not a podcast any more), and Waterdeep Mountain High (2018 and 2019).
Waterdeep Mountain High began with a series of live shows, bringing a group of well-know local comedians together for hilarity, mischief, adventure, and coming-of-age at the high school on the wrong side of the tracks in the legendary D&D city of Waterdeep. (Player Alice Snedden and DM Nic Sampson have gone on to help write kiwi comedian Rose Matafeo's BBC/HBO comedy series Starstruck.)
Recent years have been difficult for live shows, with regular performances interrupted or switching to online only. But #kiwiRPG week sees two live events, both streaming online. But Dungeons and Comedians is still going strong on stage. (There's even been a more scene-based Dungeons and Improvisers.)
D&C's Kiwi RPG Week show (featuring Billy-T winning task-mastering Waterdeep Mountain High alumnus Brynley Stent!) will be live streamed on Sunday May 8.
On Friday May 6, Kiwis & Dragons will join the fun, bringing their goofy character and traditional D&D adventuring to the Hastings Library Nerdvana Festival.
Check out the #kiwiRPG Week schedule for details!
— Lyndon and the #KiwiRPG crew